Christmas Gift Bag Instructions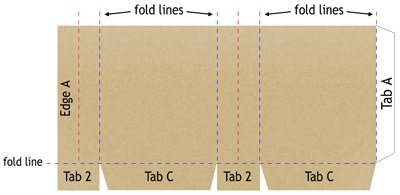 Assemble the Gift Bag
Cut out bag along the outline.
Fold along the blue dotted lines as noted in the instruction diagram. Make all these folds in the same direction. Make 2 folds in the opposite direction along the red dotted lines (or you can skip this part).
Glue Tab A to the inside of Edge A to form the bag. Bottom will still be open.
Spread glue on top of both Tab 2s and fold toward the inside of the bag.
Fold the first Tab C over the Tab 2s. Add glue to the underside of the second Tab C and fold over the others. Use a toothpick or end of a paintbrush to reach inside the bag from the top and press the tabs firmly into place.
You can add handles with embroidery floss or narrow strips of paper or ribbon. Fold in half and glue ends to the upper inside edge of the bag on one side, then do the same with the other side.