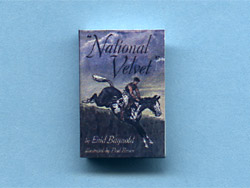 National Velvet (1949 ed.)
First published in 1935, this children's classic was made into a popular 1944 film starring Elizabeth Taylor. This blank miniature version would make a great addition to any miniature 1940s scene or child's room.
Blank pages. 3/4" tall (19mm). Vibrant, high-quality cardstock covers with readable titles and superb graphics.
$2.75