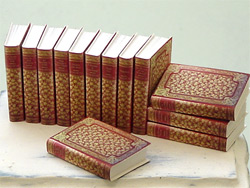 "Miss Marple" 14-Volume Set
Miss Jane Marple was one of Christie's most popular detectives, featured in 12 novels and 16 short stories. These beautiful blank miniature volumes have dramatic red covers with gold designs, a striking addition to any miniature library!
The set includes 14 volumes:
The Murder at the Vicarage (1930)
The Thirteen Problems (1932)
The Body in the Library (1942)
The Moving Finger (1942)
A Murder is Announced (1950)
They Do It with Mirrors (1952)
A Pocket Full of Rye (1953)
Murder She Said (1957)
The Mirror Crack'd (1962)
A Caribbean Mystery (1964)
At Bertram's Hotel (1965)
Nemesis (1971)
Sleeping Murder (1976)
Miss Marple's Final Cases (1979)
Blank pages. 3/4" tall (19mm). Vibrant, high-quality cardstock covers with readable titles and superb graphics. A TreeFeathers original design.
$38.50