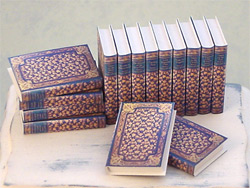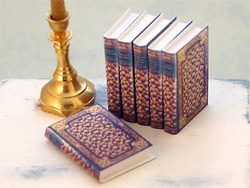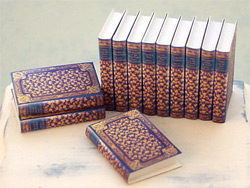 "Hercule Poirot" Sets
Belgian detective Hercule Poirot was one of Christie's most popular detectives. Between 1920 and 1975 she featured him in 33 novels and 51 short stories. He was the only fictional character ever to be given an obituary in the New York Times, after the publication of Christie's final Poirot novel, Curtain. These beautiful blank miniature volumes have dramatic blue covers with gold designs (matching the red Miss Marple set). A striking addition to any miniature library!
There are so many of the novels that I have broken them into three sets for your convenience. The entire 33-volume set is also available.
Set 1 includes 15 volumes:
The Mysterious Affair at Styles (1920)
Murder on the Links (1923)
The Murder of Roger Ackroyd (1926)
The Big Four (1927)
The Mystery of the Blue Train (1928)
Peril at End House (1932)
Lord Edgware Dies (1933)
Murder on the Orient Express (1934)
Three Act Tragedy (1935)
Death in the Clouds (1935)
The A.B.C. Murders (1936)
Murder in Mesopotamia (1936)
Cards on the Table (1936)
Death on the Nile (1937)
Dumb Witness (1937)
Set 2 includes 6 volumes:
Appointment with Death (1938)
Hercule Poirot's Christmas (1938)
Sad Cypress (1940)
One, Two, Buckle My Shoe (1940)
Evil Under the Sun (1941)
Five Little Pigs (1942)
Set 3 includes 12 volumes:
The Hollow (1946)
Taken at the Flood (1948)
Mrs McGinty's Dead (1952)
After the Funeral (1953)
Hickory Dickory Dock (1955)
Dead Man's Folly (1956)
Cat Among the Pigeons (1959)
The Clocks (1963)
Third Girl (1966)
Hallowe'en Party (1969)
Elephants Can Remember (1972)
Curtain (1975)
Blank pages. 3/4" tall (19mm). Vibrant, high-quality cardstock covers with readable titles and superb graphics. A TreeFeathers original design.
Prices listed below.