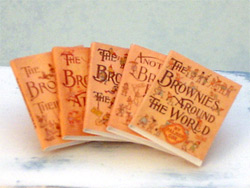 Palmer Cox's "Brownies" 5-Volume Set
Palmer Cox's stories of mischievous Brownies appeared in numerous magazines before finally being published in their own books in the late 1800s. They were so popular that one of the first handheld cameras was named after them, The Eastman Kodak Brownie. These little books, with adorable cover illustrations of the Brownies, would be a great addition to any late-Victorian or early 20th-century dollhouse!
The set includes 5 volumes:
The Brownies, Their Book (1887)
Another Brownie Book (1890)
The Brownies at Home (1893)
The Brownies Around the World (1894)
The Brownies Through the Union (1895)
Blank pages. 3/4" tall (19mm). Vibrant, high-quality cardstock covers with readable titles and superb graphics.
$13.75