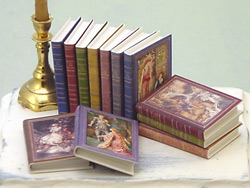 Andrew Lang's Coloured Fairy Books 12-Vol. Set
Beautiful blank miniature versions of Andrew Lang's ever-popular Coloured Fairy Books, first published between 1889 and 1910. I designed these covers to look like leatherbound volumes, each in the appropriate color. Cover illustrations are by beloved artists of the era such as Henry J. Ford, one of the original illustrators of the Fairy Books.
The set includes all 12 Fairy Books: Blue, Red, Green, Yellow, Pink, Grey, Violet, Crimson, Brown, Orange, Olive, and LIlac.
Blank pages. 3/4" tall (19mm). Vibrant, high-quality cardstock covers with readable titles and superb graphics. A TreeFeathers original design.
$33.00