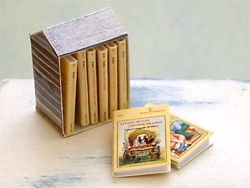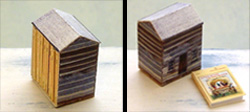 'Little House on the Prairie' 8-Volume Set with Slipcase
No miniature girl's room would be complete without this classic collection of 1:12 scale 'Little House' books. Blank books with charming 1970s cover illustrations by Garth Williams. The books come in an adorable cabin-shaped slipcase.
The set includes 8 volumes:
Little House in the Big Woods
Little House on the Prairie
Farmer Boy
On the Banks of Plum Creek
By the Shores of Silver Lake
The Long Winter
Little Town on the Prairie
These Happy Golden Years
Blank pages. Books measure 5/8" tall (15mm). Vibrant, high-quality cardstock covers with readable titles and superb graphics. Slipcase is 3/4" tall (20mm) to peak of roof.
$25.00