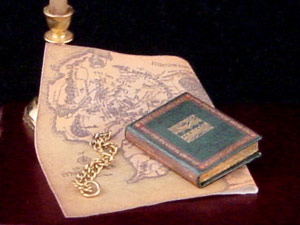 I've been fascinated by miniatures since I was a kid. I love the broad range of arts and skills involved, and the ability to bring memories and imagination to life. I try to create those particular moments in life that inspire me, and that evoke the magic and beauty of the world around us. Memories of simpler times, the joy of holiday cheer; imagination on a summer day, traditions we hold dear...
For several years I had been making Santa dolls to sell at craft fairs, and I particularly enjoyed making all the small-scale toys and accessories for them. I have a passion for books, too, and have a huge collection that includes a lot of antique children's books and fairy tales. I drew on many of them to create the gift books carried by the Santas.
In 2001 I decided to go even smaller with the Santa toys and books, and try my hand at selling in the online miniatures world. The books proved to be extremely popular and before I knew it the miniatures had grown into a full-blown business. I sell at shows as well as online, and also write the blog Life in Miniature, where you can always check in for updates!

---

---
Contact Me
Please email if you have any questions
or write to:
Grace Griffin
TreeFeathers Miniatures
PO Box 70296
Albuquerque, NM 87197