Browse books by Category or by Author.
All TreeFeathers miniature books are handmade by me, of utmost quality and detail. They are 1:12 scale unless otherwise noted. For more information about TreeFeathers books, please see the Miniature Book FAQ.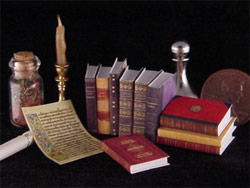 Bookhouse for Children
Ernest Nister Co.
Rackham, Arthur (illustrator)
Raphael Tuck & Sons
Ward, Marcus & Co.